MoveOn Members Protest Nationwide on #SaveThePostOffice Saturday | MoveOn.Org
"Save the Post Office Saturday" was a huge success! On Saturday, as House Democrats passed measures to repeal Louis DeJoy's actions and fully fund the post office, tens of thousands of us gathered in front of post offices at more than 800 actions in every state across the country. Together, we demanded that Donald Trump and Postmaster General DeJoy stop scheming to sabotage the U.S. Postal Service.
Check out this video featuring just a few highlights from the extensive coverage we generated together, from this Washington Post story to local outlets across the country. Local coverage like this is crucial to reaching Congress, because politicians pay close attention to their local media.

Watch and share the video on Facebook or click here to watch on YouTube.
From Naalehu, HI (population: 866), to Greenbush, MI (population: 1,200), and Portland, ME, to Portland, OR, people turned out, masked and socially distanced, in solidarity with postal workers and communities across the country whose well-being and livelihoods depend on our constitutionally guaranteed Postal Service. Nearly 100 organizations partnered to help drive Saturday's actions in addition to MoveOn, including RuralOrganizing.org, the NAACP, Service Employees International Union, the Working Families Party, the Leadership Conference for Civil and Human Rights, Indivisible, Vets for the People, and the American Federation of Teachers. With all of us taking action, we made #SaveThePostOffice trend on Twitter.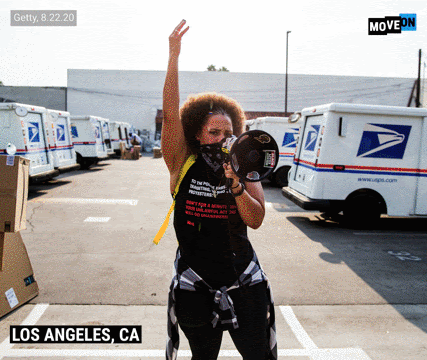 But Saturday was just the beginning. Now that the House has taken action to #SaveThePostOffice, we need to ramp up pressure on Republicans in the Senate.  
Can you call your senators right now to demand they do everything in their power to save the post office from Trump and DeJoy's sabotage?
We've been sounding the alarm about the threats to the post office, and Congress is listening. On Friday, under enormous public pressure, DeJoy told the Senate he'd delay other changes—though he said nothing about changes he already implemented, and there's no reason to believe he'll keep his word. And today, the House Oversight Committee held an urgent hearing, with testimony from Postmaster General DeJoy and Postal Service Board of Governors Chairman Robert M. Duncan, on the extensive mail delays and service disruptions ordered by DeJoy, a Trump megadonor who has donated to multiple Senate Republicans, and has his own significant conflicts of interest, and is carrying out Trump's wishes to interfere with the post office's ability to deliver our democracy come November.1
The continued assault on the Postal Service is not only a clear attempt by Trump and DeJoy to sabotage vote-by-mail ballots in November, it's also a hit on vulnerable populations across the country who rely on the USPS for essential goods and services. DeJoy has now said he will suspend his service rollbacks, but he told Speaker Pelosi "he has no intention of replacing the sorting machines, blue mailboxes and other infrastructure that have been removed."2 
Together, we'll make sure Congress acts.