Families hit by coronavirus suffer trauma of stigma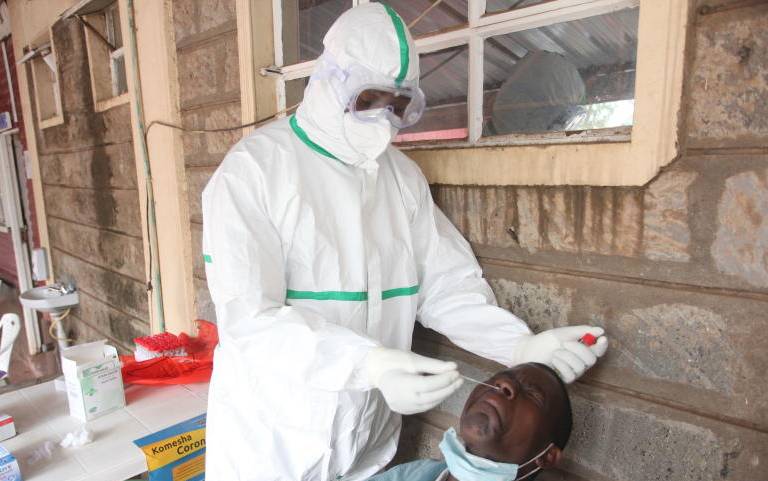 Esther puckers her face, rubs her eyes, and pensively sways her head as she sits in a corner of her compound at Naka Estate on the outskirts of Nakuru town.
Read More
Ordinarily, the civil servant would be discharging her duties serving the public, but her movement is restricted to an enclosed environment after she contracted Covid-19.
Esther is among the rising number of people that are hard hit by the pandemic that has killed more than 900 people in the country and caused financial and psychological torture to thousands of families, both locally and globally.
Besides Esther, two of her daughters aged 15 and 30, a two-year-old grandson and her house help are also infected and are recuperating at home.
"I am traumatised. I am scared for my life and I do not know whether I will be the next statistic as I watch Covid-19 updates on TV," says Esther, who also suffers from hypertension.
The entire family is symptomatic and uses medicine and immune boosters to keep the disease at bay.
The family spends about Sh3,500 on medicine and supplements they get over the counter every week, in addition to some more drugs from Rift Valley Provincial General Hospital.
Esther reveals that she received news of having contracted the virus with shock.
"It all started with a persistent headache that developed into chills, cough and accelerated body temperature," she says.
But the worst was yet to come and when she went home all her family members had the same symptoms.
"At first nobody in the family had any sense of smell and taste, which prompted the family to undertake Covid-19 tests that turned positive on October 24," she said.
"I was scared after public health officers informed me that my entire family had been infected. Would we survive? That was the one-million-dollar question that troubled my restless mind," she recalls.
For Esther, she was able to overcome the trauma thanks to friends and family members who encouraged her to stay strong as she soldiers on in her recovery journey.
"We are not taking chances. At home, the entire family wears face masks. We wash hands with soap and water, and keep physical distancing as if we are in the public," she says.
But how is she coping with a changed daily role as head of the family? Self-isolation comes with its challenges, like boredom.
However, this is no longer a big concern to her as she has kept poultry that keeps her busy and when she retires she reads the Bible and watches comedy movies.
"I think positively, pray and hope someday I will overcome and narrate my recovery journey through this deadly disease for posterity," she says.
Esther's experience mirrors the pain and turmoil that families are undergoing as the pandemic ravages the country.
A nurse working at a dispensary in Kisumu County was also isolated from her family after she tested positive for Covid-19.
Beatrice (not her real name), her husband, and three teenage children tested positive last month.
This culminated in a blame game as to where the family contracted the disease, with accusing fingers pointing to her husband who had travelled back from Nairobi.
Beatrice slipped into depression after the dispensary, which serves as a rescue centre for about 10,000 people living with HIV, was shut down. "I was accused of being a super spreader in my work station," says Beatrice.
The stigma and the harsh environment at home could not allow the family to undergo home-based isolation and care.
The nurse was admitted at Jaramogi Oginga Odinga Teaching and Referral Hospital with her two children while her husband was admitted at Aga Khan Hospital, Kisumu.
The couple and their first-born child recovered from the disease, but the other two children are still recuperating in isolation at home. The recovery path has been a painful experience for Beatrice.
"I break down when my children ask me when they will recover and be allowed to play outside. I spend sleepless nights praying for their speedy recovery," she says.
A nurse at the Rift Valley Provincial General Hospital is also managing her two teenage children at her home within Nakuru Town East, after they tested positive on October 28.
"I received news of my children being positive with a heavy heart, but then, I had to be strong for them," she says.
Consultant Psychiatrist Lukoye Atwoli linked stigma attributed to Covid-19 to lack of factual and adequate information about the disease, which is causing more harm to Kenya's mental health and well-being than the disease itself.
"Many people believe Covid-19 is like a death sentence. This should change because anyone is a suspect and it can be managed and those sick can recover," he said.
Edith Kwoba, a consultant psychiatrist at Moi Teaching and Referral Hospital, Eldoret told The Standard the disease has left families financially and psychologically affected.
"Individuals have lost employment due to the pandemic and suffer silently in their homes. This is overwhelming because they have to cater for food and medication that leaves them mentally and psychologically disturbed," says the doctor.
"Nobody chooses to get sick. Anyone can get infected, so let us support each other to win this fight," she says.